To any moms who would like to have a morning just to talk to another adult and let the kids run wild, join us at Fox Meadows Creamery at 11am. This is an informal meet up, but if you'd like to be added to the contact list in case of weather changes or future updates, add your name via the green plus button.
This is a 10-week, intensive that focuses on inner healing from past wounds and trauma that are directly connected to our present habits and patterns. It starts August 31st and will go through November 4th. It will be on Wednesday nights from 6-10pm, & two Saturday half days. Dinner will be provided. Let us know if you're interested via the green plus sign.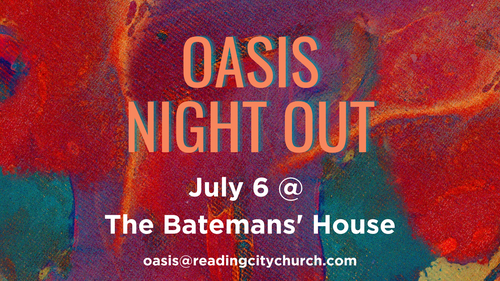 Oasis Student Ministries will be meeting at the Batemans' house at their typical Weds night time of 5:45-8pm on July 6. If you're interested in joining us for games and other fun, email
Oasis
. If you're about to move up into 6th grade this fall, you're also invited!
The fifth Sunday of every month is our CONNECT Sunday, which is when we take intentional time to provide the opportunity to get to know one another more deeply. There will be a lunch immediately following a shortened service and everyone is welcome to come!

Our next CONNECT Sunday is July 31.
On the fourth Sunday of every month, we pause from our regular schedule to focus on connection and rest. We host a small, unplugged service in our church building, but we also encourage you to find a new way to get to know others in our church family. This can look like a small gathering in someone's house, a hike, lunch at a park, etc. If you are interested in hosting a gathering or are looking for a place to join,
go here.
Family Ministries' Resource Page
If your child(ren) is a part of the preschool or RCC Kids classes, we have a new resource page for you.
Here you can find the lesson videos
for each week of our teaching series to follow along when your child is not able to attend.
All guys are invited to come to the service early every Sunday for breakfast. This time is intended for connection and good food - there is no program or structured discussion. If you've been wanting to get to know some other men at RCC, this is the perfect time.
Questions? Email
o
[email protected]
.
If you're looking for a way to get connected, make friends, serve, and take an active step in being a part of our church family, here's your chance to get involved! Here are a few: volunteer in one of the children's classes (infant - 5th grade), be an Oasis leader (6th -12th grade), pick up and deliver food donations with the food ministry, bring meals to those who are recovering following having a baby or an illness, play/sing on the worship team, etc. Find a list of
our most pressing needs here
, or
email Amanda
if you'd like more ideas of where you can plug in.